RECORDINGS - Age-Friendly Housing Series – From Homelessness to Continuing Care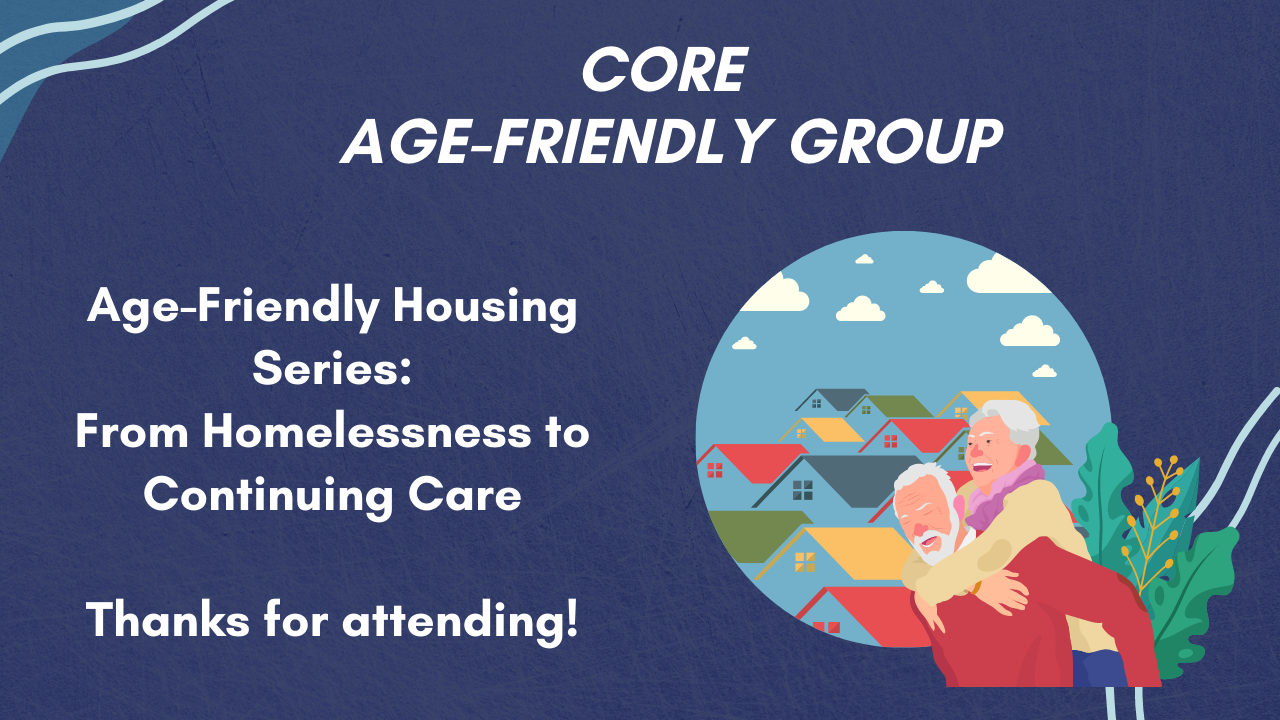 "The housing conditions of older people are often linked to their quality of life and whether they are able to age independently and actively in their community. Appropriate housing design and its proximity to community and social services allow older residents to live comfortably and safely, while housing affordability gives them peace of mind." 

- The World Health Organization, Age-Friendly World
Through this five-part series, the Alberta Age-Friendly Community of Practice explored the range of seniors housing from homelessness to continuing care from Feb. 23-June 22, 2022. 
The goals for this series were to:
Help to foster a shared understanding of the housing needs of seniors.
Identify enablers to support seniors to live independently.
Encourage and facilitate a variety of age-friendly housing options for seniors.
You might be interested in watching the recordings of this series if you are a senior serving organization, housing provider, municipality, developer or if you are interested in making housing more age-friendly. 
---
About the host: Age-friendly communities promote healthy and active aging. The CORE Age-Friendly Groups share information, resources and promising practices for creating age-friendly environments and help communities that are pursuing age-friendliness to connect and support each other.
Please find additional information below. 
Session #1:

February 23, 2022

 

Theme: Setting the Stage for Seniors Housing

 

View the recording HERE

Session #2:

March 23, 2022

 

Theme: Late Life Homelessness and Affordable Housing

 

View the recording HERE

Session #3:

April 27, 2022

 

Theme: Age-Friendly Housing - Characteristics of age-friendly housing for seniors

 

View the recording HERE

Session #4:

May 18, 2022

 

Theme: Innovative Housing Models for Seniors

 

View the recording HERE

Session #5:

June 22, 2022

Theme: Supportive Housing and Continuing Care

 

View the recording HERE
By

Subject Area

Housing
Home Support
Mental Health and Wellness
Safety, Security, Finances, & Personal Planning
Social Connectedness / Social Isolation
Education, Recreation, & Arts
Information, Referral, & Advocacy
Organizational Development
Caregiving & Caregiver Support

Audience

Service Providers (Non-profits, Community Organizations, Local government)
Government
Health Authorities
Funders
Caregivers, Seniors & Volunteers
Academics