Community-Based Senior's Serving Sector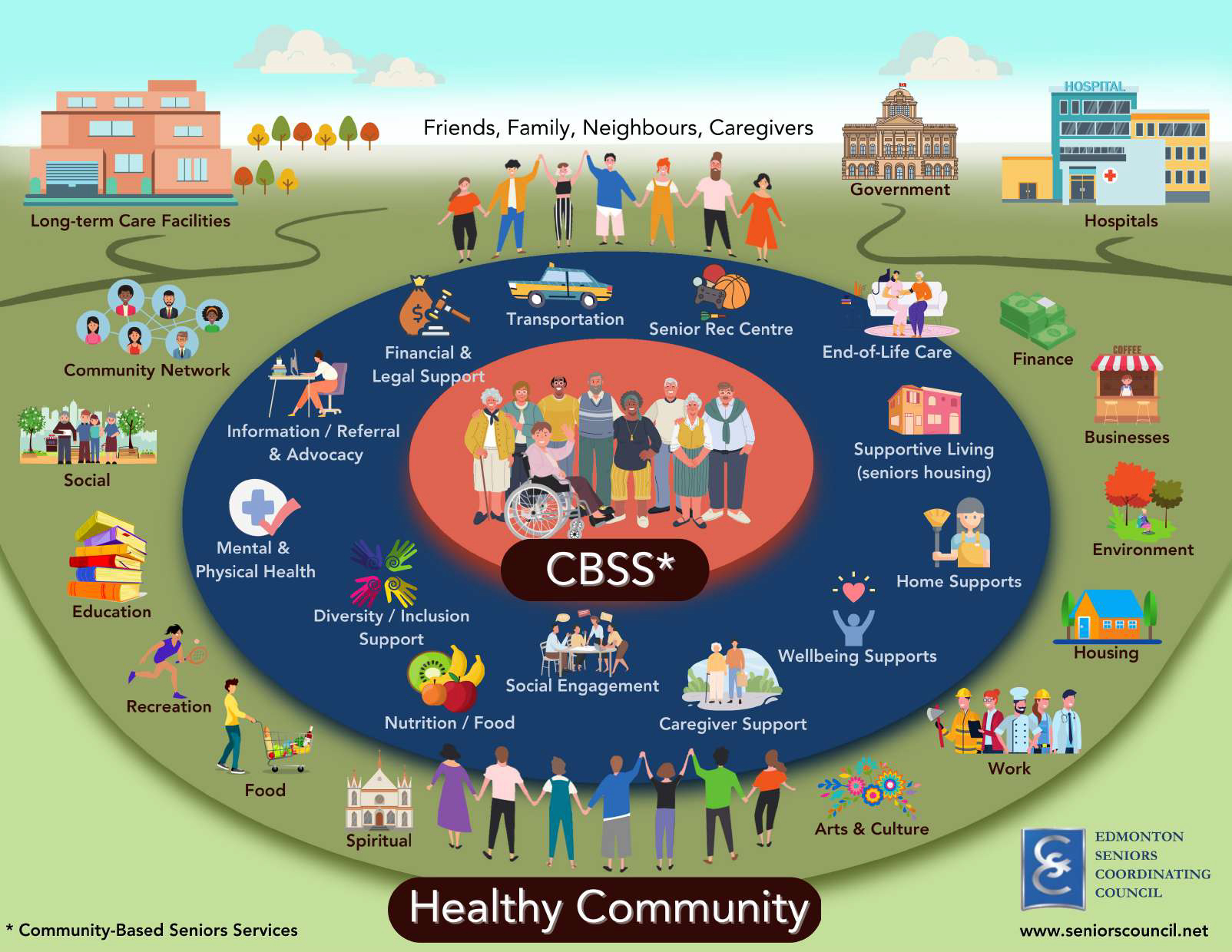 Advocating for Seniors
Healthy Aging Alberta (HAA) and Edmonton Seniors Coordinating Council (ESCC) are two of the lead champions of the Community-Based Seniors Serving (CBSS) sector. 
HAA is a rich network of CBSS organizations and allies across our province united by a shared vision: to make Alberta one of the best places in the world to grow older. Healthy Aging Alberta was established as a convener and an advocate for organizations that provide community-based seniors serving supports and programs, Healthy Aging Alberta does not directly provide services to older adults itself. Through the work of Healthy Aging Alberta, however, organizations in the community-based seniors serving sector will be more connected with each other, more cohesive in their joint messaging, and more effective in getting the value and the needs of the sector better understood within government and among members of the public.
ESCC is an organizing body that supports a network of collaborative efforts in the greater Edmonton area. This Network's efforts are focused on making the region a place where people can grow older with dignity. ESCC is doing some valuable work in the Edmonton Area with a declaration they have put out and an opportunity for people to sign the document, agreeing to the importance of having strong community supports for older adults to age well in their homes of choice. You can see more about the declaration here: ESCC Declaration - Healthy Aging CORE Alberta
The CBSS sector
Organizations serving older adults play a critical role in helping Albertans age at home in the community. The CBSS sector is a wide and diverse sector of caring and responsive service providers that are dedicated to providing better services and opportunities for older Albertans. While the CBSS sector is broad, the community-based seniors serving sector still needs the increased capacity to handle current and future demand, which will increase as populations age.
Impact of CBSS Organizations 
The organizations in this sector provide services in an incredibly cost-effective manner. We are caring, nimble, and responsive to the diverse needs of older adults. 
The CBSS sector provides many small and large acts of support, such as giving rides, providing meals, connecting people to community supports and affordable housing, and engaging people to reduce isolation, improve their mental health, and foster well-being and resilience. 
Sector organizations support older Albertans to stay in their own homes, preserving their dignity and agency while preventing or delaying the need for expensive health care services such as acute or long-term care. 
The CBSS sector provides many non-medical services which address the social determinants of health, these account for 75% of health outcomes (source). Community programs include home-based programs and services (like meal assistance, snow removal, assisted transportation, etc.) that are fundamental for supporting the agency of older adults so they can choose how and where they want to age and for how long.  
The longer older Albertans are active in their community the more society benefits – older adults are the top volunteers (source), donors (source), caregivers (source), and politically active citizens in our communities (source). They also serve vital roles as family caregivers often for other aging loved ones and young children. 
Older adults consistently express a desire to age in their communities as long as they can (source). Sector organizations help them do that. 
Resources
Please use the attached graphics to promote and discuss the importance of the CBSS sector in your communities and with the folks you engage with. Attached you will find a CBSS Infographic that describes all the areas of interaction within the sector. You will also find attached the individual illustrations from the infographic for you to use individually and advocate for specific sections of the framework.
Subject Area

Transportation
Social Connectedness / Social Isolation
Safety, Security, Finances, & Personal Planning
Referral and Systems Navigation
Organizational Development
Mental Health and Wellness
Leadership, Training, Coaching, Mentoring
Intergenerational initiatives
Information, Referral, & Advocacy
Housing
General Health and Wellness
Food Security and Nutritional Supports
Enterprise / Commercial
Ageism
Age-friendly Communities
Caregiving & Caregiver Support
Education, Recreation, & Arts
Food & Nutritional Support
Funding Development
Home Support
Indigenous Peoples and Indigenous Relations
Intercultural/Interfaith/Interlingual; Immigrants, Refugees, and Other Newcomers
International Innovation
LGBTQIA2S+
Non-profit / Charitable sector
Physical Activity
Rural and Remote Communities
Seniors' Planning & Action Tables/Committees
Technology
Volunteer Management

Audience

Academics
Funders
Government (Politicians, Policy Makers) and Health Authorities
Service Providers (Non-profits, Community Organizations, Local government)
Health Authorities
Government
Caregivers, Seniors & Volunteers

Category

Advocacy
Best Practices
CBSS Supports & Services
Evidence-based & emerging practices
Organizational development
Leadership & Development
Impact Stories