How to Lower Your Dementia Risk: Top 10 Tips, Plus Emerging Research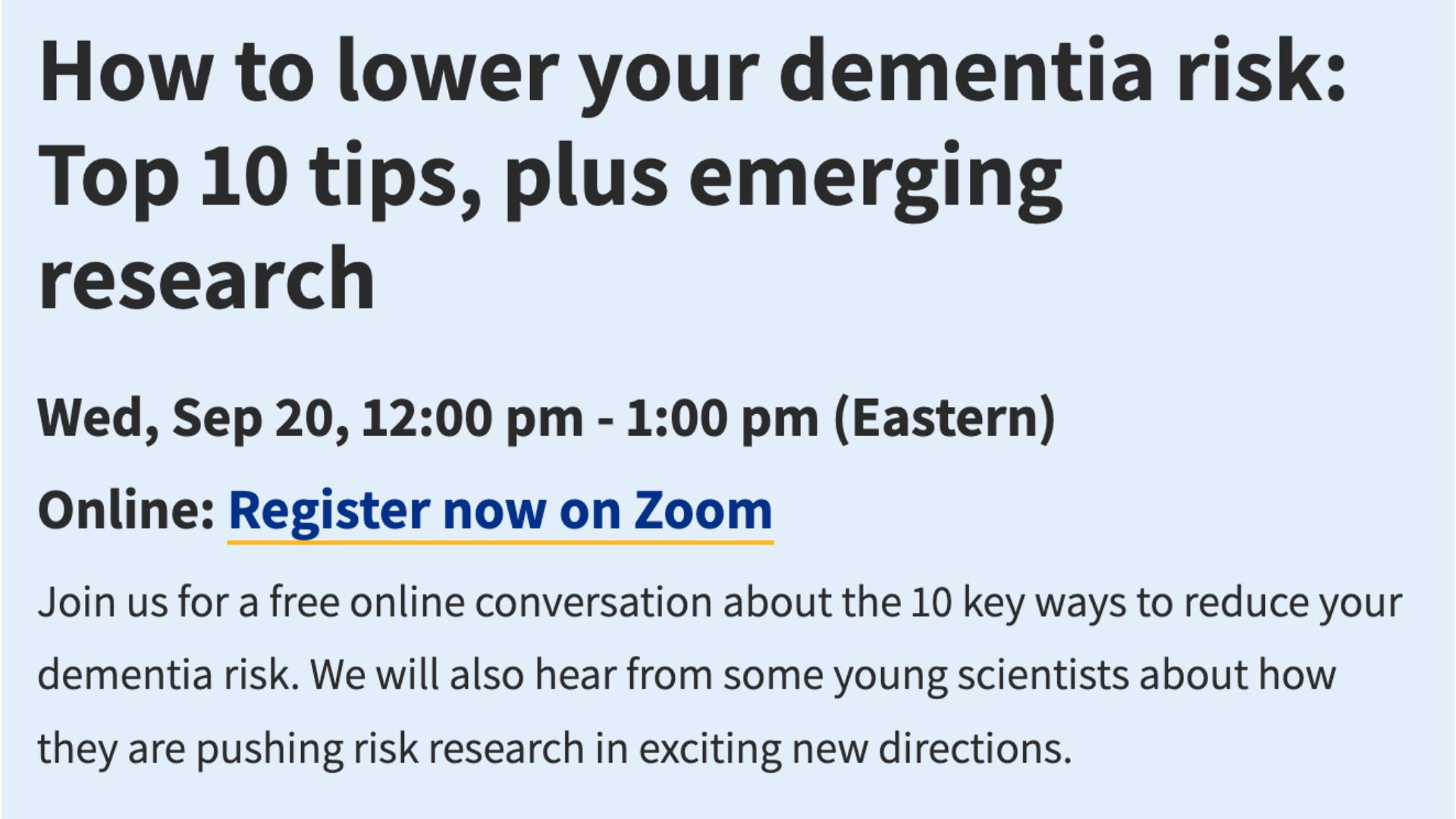 Join us for a free online conversation about the 10 key ways to reduce your dementia risk. We will also hear from some young scientists about how they are pushing risk research in exciting new directions.
September is World Alzheimer's Month. And the theme of World Alzheimer's Month 2023 is dementia risk reduction.  
As Alzheimer Disease International's motto for this month, "Never too early, never too late," indicates, it's always a good time to take steps to reduce your dementia risk. 
So join us online September 20 at 12 p.m. Eastern for a free conversation about dementia risk reduction.
Together, we will review some of the top 10 ways to reduce your dementia risk. And if you are already living with dementia, these 10 actions can also help support your overall brain health.  
During this talk, we will also hear from some exciting young researchers in Canada about what they are looking at next in the dementia risk field. Speakers confirmed so far include:
Dylan Guan, a PhD student at the University of Calgary who is researching how to better detect and address early dementia risk
Rebeca Hernández Gamboa, a PhD student at the University of British Columbia who is researching how different kinds of exercise affect cognitive function
Annalise LaPlume, a postdoctoral researcher at Toronto Metropolitan University and McGill University's Douglas Research Centre who is studying how lifestyle changes can impact dementia risk differently for women
Myuri Ruthirakuhan, a postdoctoral researcher at Sunnybrook Research Institute who is studying how groups of cardiovascular risk factors can impact risk of dementia
All of these speakers are recent recipients of awards from the Alzheimer Society Research Program. This year, the program distributed nearly $6 million in funding to 44 researchers across Canada to change the future of dementia.
This talk will take place in English, with live interpretation provided in French. It will be moderated by Leah Sandals, Senior Editor at the Alzheimer Society of Canada.
This talk is part of the monthly Dementia Talks! Canada series. Dementia Talks! Canada is produced in partnership by Alzheimer Society of Canada and Brain Canada.
If you have any questions, comments or concerns about this talk, please contact publications@alzheimer.ca anytime.
Organizer

Alzheimer Society of Canada

Date

(MDT)

This event has passed.

Time (MDT)

10:00 AM - 11:00 AM