What we heard: Indigenous Peoples and COVID-19: Public Health Agency of Canada's companion report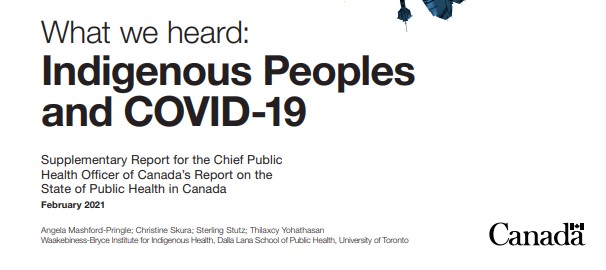 This report was led by the Waakebiness-Bryce Institute for Indigenous Health (WBIIH) at the Dalla Lana School of Public Health, University of Toronto and submitted to the Public Health Agency of Canada.
This report is to complement the CPHO's Annual Report on the State of Public Health in Canada 2020, "From Risk to Resilience: An equity approach to COVID-19". During late February 2020, COVID-19 became a growing concern in Canada with reported cases in multiple regions. COVID-19 has changed the way we live, work, and socialize. Dr. Mashford-Pringle and the research team were asked to author a companion report as a reflection of what was heard during the August and September engagement sessions.
READ MORE HERE
By

Subject Area

Mental Health and Wellness
Safety, Security, Finances, & Personal Planning
Social Connectedness / Social Isolation
Information, Referral, & Advocacy
Funding Development

Audience

Service Providers (Non-profits, Community Organizations, Local government)
Government
Health Authorities
Funders