Vaccine Report Card 2021-22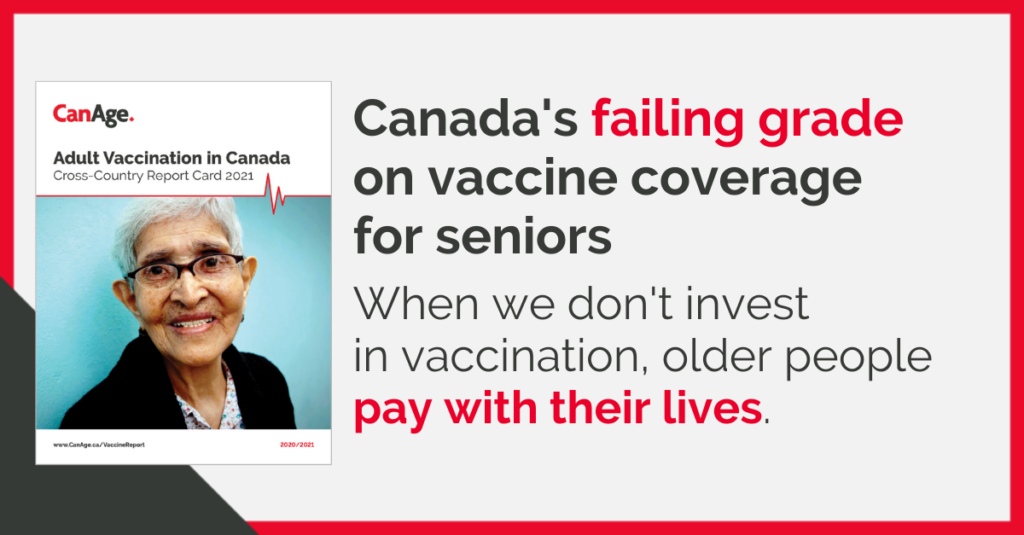 The first edition of CanAge's Vaccine Report Card ('Adult Vaccination in Canada: Cross Country Report Card'), published earlier this year, caused quite a stir with provincial and territorial governments across the country.
CanAge assigned each part of Canada a letter grade on their efforts to vaccinate adults against flu, shingles, and pneumonia, with many scoring painfully low.
The truth hurts, but it also creates change. The Report brought much-needed attention to the issue of vaccine funding and access and put pressure on governments that resulted in real change on behalf of our members.
CanAge is currently working on version 2 of the Report, and will be publishing it in early 2022. Stay tuned!
READ MORE HERE
Website Link
---
By

Subject Area

Mental Health and Wellness
Safety, Security, Finances, & Personal Planning
International Innovation

Audience

Service Providers (Non-profits, Community Organizations, Local government)
Government
Health Authorities
Caregivers, Seniors & Volunteers
Academics