Spirit Bear's Guide to the Truth and Reconciliation Commission of Canada: Calls to Action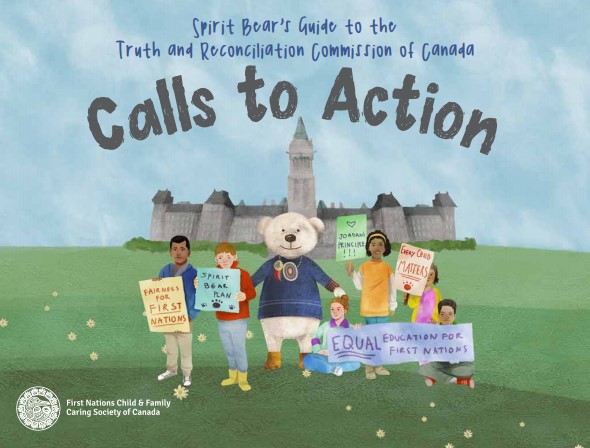 In 2008, a group called the Truth and Reconciliation Commission (TRC) was made. Their job was to listen to stories about residential schools and then write the stories down so we can learn from our mistakes. In 2015, the Truth and Reconciliation Commission announced their 94 Calls to Action. These are 94 activities all governments, courts, businesses, schools, and people living in Canada can do to help fix the mistakes of the past and present so that all children – including First Nations, Métis, and Inuit children – can grow up happy, healthy, safe, and proud of who they are.
This booklet is written by Spirit Bear as a youth-guide to the TRC's 94 Calls to Action. Spirit Bear was born in a huckleberry patch in the Carrier Sekani Territory in British Columbia but he spends most of his time on the lands of the Algonquin people in a city called Ottawa. Ottawa is also where the Government of Canada lives. Governments makes laws and provide the services that everyone needs, like clean water, education, and health-care. Spirit Bear is a Bearrister, which means when he sees something wrong, he has to learn about it and try to help. Some problems seem big and hard to fix, but Spirit Bear's mom – Mary the Bear – says the first step in fixing a problem is believing you can.
READ MORE HERE
By

Subject Area

Information, Referral, & Advocacy

Audience

Service Providers (Non-profits, Community Organizations, Local government)
Caregivers, Seniors & Volunteers