Social Prescribing: Bridging the Gap for Community Supports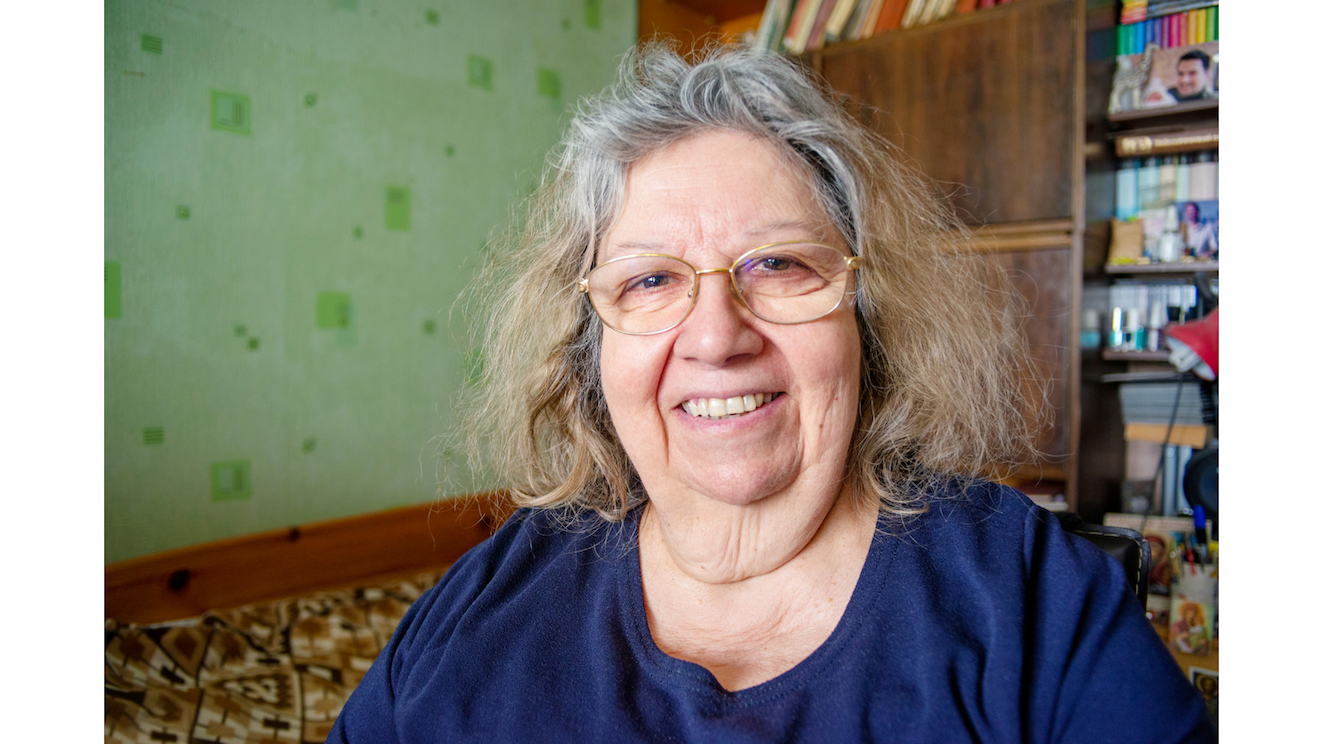 About this campaign?
This marks the third article in a special Social Prescribing storytelling campaign commemorating the International Day of Older Persons and National Seniors Day in Canada. It symbolizes a collaborative effort among early adopters and leaders of Social Prescribing in Canada, aimed at elevating the prominence of the initiative. This campaign seeks to articulate the profound impact of Social Prescribing in enhancing the lives of older adults contending with feelings of loneliness and isolation.
What is social prescribing?
Social prescribing is a holistic approach to healthcare that bridges the gap between medical and social care services. Through this approach, healthcare professionals refer and connect patients to community-based programs, services and activities to improve their health and enhance their quality of life. Social prescribing promotes health equity by addressing social needs that affect health and well-being – like access to adequate housing, food, transportation, income and social support. This helps older adults with limited natural supports to thrive.
Jummie's Story
Jummie, a 67-year-old woman, was referred to the Edmonton 55+ Social Prescribing Program by an occupational therapist in the Community Aids to Independent Living (CAIL) program with Alberta Health Services (AHS). She is homebound, has no family or community support, and also needs more affordable housing on her low income. Jummie struggles through her instrumental activities of daily living (IADL) and activities of daily living (ADL). She is living with diabetes, COPD, mobility issues, depression, and other mental health issues. Intake and assessment were done by the Link Worker at Jewish Family Services Edmonton, who referred Jummie to receive free nutritious meals through Edmonton Meals on Wheels. The Link Worker also noticed that Jummie needed help with cleaning her apartment. They were able to connect her with their home support workers for a subsidized rate of $5 per hour.
To potentially assist with her ADLs, the Case Manager helped refer Jummie for an AHS Home Care Services assessment. Applications were also submitted to GEF Seniors Housing for subsidized housing and Civida for their rental assistance program. After contacting the Special Needs Assessment program, the Case Manager learned that Jummie would be eligible to receive a more comfortable and supportive mattress as well as reimbursement for her diabetic supplies.
Jummie was open to joining a social community but was limited because of her mobility issues. The Case Manager referred her to the Seniors Centre Without Walls (SCWW) program through the Edmonton Southside Primary Care Network. Following a referral from Jummie's doctor, the Case Manager also reached out to a community geriatric psychiatrist program on her behalf. While Jummie's case is still a work in progress, she is grateful for the assistance and support.
Recently, Jummie told her Link Worker "It has been a long time since I breathed clean air in my apartment and talking to other seniors in the Seniors Centre Without Walls program has made me feel that I am not alone."
Introducing the Link Worker Role
A Link Worker plays an integral role in bridging the gap between healthcare and social care. As Social Prescribing professionals, the Link Worker partners with community organizations to provide non-medical support to improve the overall health and well-being of clients. The Link Worker is employed by a community-based seniors serving organization and has a diverse range of responsibilities – from conducting assessments and developing personalized care plans, to providing practical support to clients and their families.
"I recently had a client call me to thank me for the referral to the social prescribing program and said that the Link Worker was an "absolute angel". I highly recommend this program and will continue to refer my clients as needed" – Alberta Health Services Homecare Case Manager
Healthy Aging Alberta has recently developed a five-module e-learning curriculum for the Link Worker role in Alberta. The modules cover the Link Worker function and ecosystem, equity-based approaches to care, practical skills for serving clients, building community connections to support clients, and supporting Link Worker wellbeing.
Since July, 58 frontline workers from across Alberta have registered to take the training. Over 82% of workers that have completed the course felt confident in their ability to apply the knowledge and skills from this training into their day-to-day practices as a Link Worker (or equivalent frontline worker).
Growing the Social Prescribing Movement
Healthy Aging Alberta's Social Prescribing for Older Adults Program is currently supporting 10 regional social prescribing demonstration projects in Edmonton, Calgary, Lethbridge, Jasper, Whitecourt, Sylvan Lake, Innisfail, Red Deer County, Vulcan, and Strathmore/Wheatland County. For more information about the program or the Link Worker curriculum, contact: beth.mansell@healthyagingalberta.ca.
Healthy Aging Alberta is collaborating with the Canadian Institute for Social Prescribing, Canadian Red Cross, United Way British Columbia, and Healthy Aging BC, the Alliance of Healthier Communities, and the Older Adult Centres' Association of Ontario to raise the profile of Social Prescribing in Canada through a series of initiatives, including this storytelling campaign.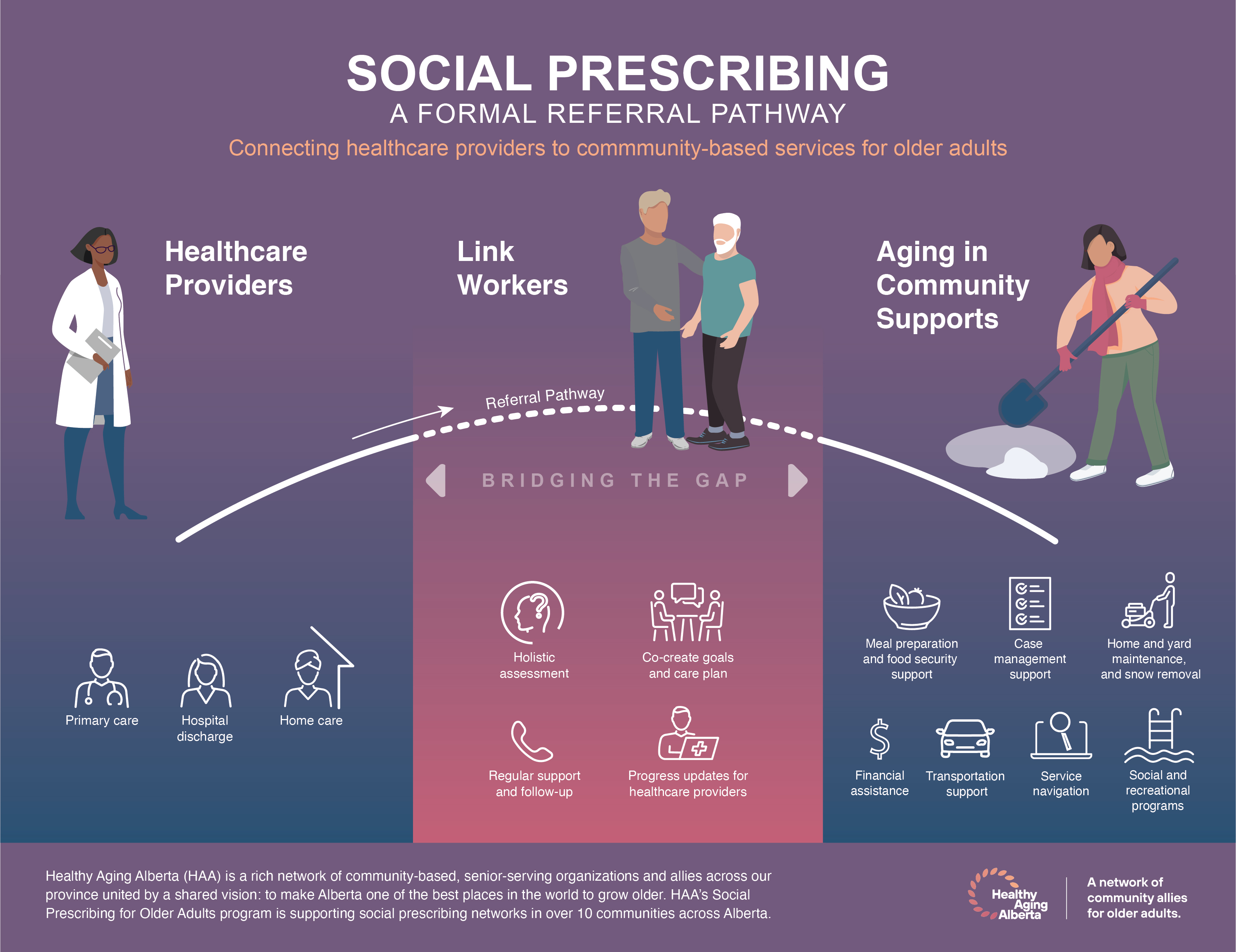 Subject Area

Information, Referral, & Advocacy
Social Connectedness / Social Isolation
Food Security and Nutritional Supports
Food & Nutritional Support
Physical Activity
General Health and Wellness
Mental Health and Wellness
Education, Recreation, & Arts
Home Support
Non-profit / Charitable sector
Referral and Systems Navigation

Audience

Service Providers (Non-profits, Community Organizations, Local government)
Caregivers, Seniors & Volunteers
Government (Politicians, Policy Makers) and Health Authorities
Health Authorities
Government
Funders
Academics

Category

Success Stories
Impact Stories
CBSS Supports & Services