RECORDING & RESOURCES: Connecting People and Community for Living Well - September 2023 Partners' Meeting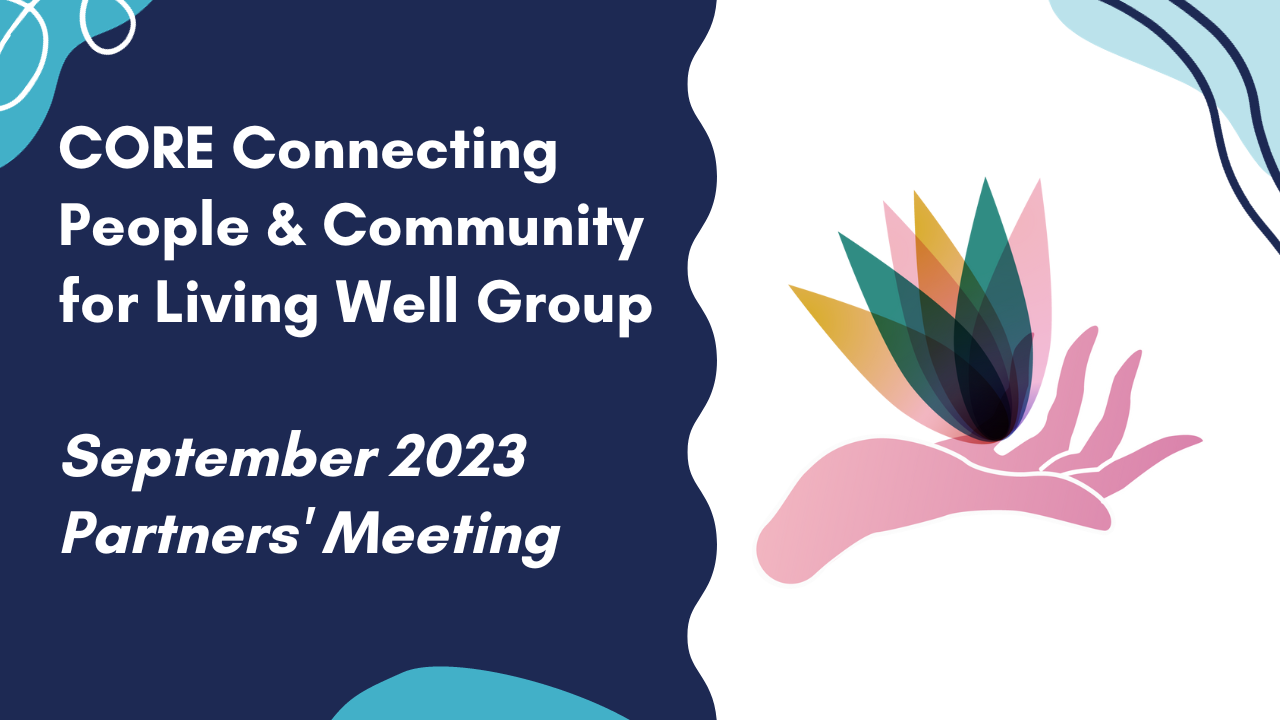 You can access the recording HERE or view it below.
As in previous years, they used this first meeting of the new season as an opportunity to informally check in/reconnect with their partners and communities and discuss ideas for future meetings over the next year.
The meeting slides are also attached.
*These Partners' Meetings are open to anyone with an interest in supporting seniors and other underserved populations to live well in the community, and you may attend any or all of the series as your schedule permits.
The following resources & links were shared during the meeting in the chat box:
Caregiver Centered Care (caregivercare.ca) – Caregiver-centred care education for the health workforce, from University of Alberta Department of Family Medicine.
Team CarePal App | Family Caregiver | Caregiving Together - App that supports the family caregiving experience by giving them all the tools they need to manage their caregiving responsibilities with family and friends.
Giving Care – Canadian Centre for Caregiving Excellence (canadiancaregiving.org) – white paper from the Canadian Centre for Caregiving Excellence on the caregiving landscape in Canada.
Infinity Healthcare | Home Health Care, Dementia Care, Companion Care Edmonton, Alberta, BC (infinity-8.ca) – helps families with the direct invoicing model. Website includes a video on direct invoicing.
Patient Concerns & Feedback | Alberta Health Services – to submit feedback on the self-managed care/direct invoicing program.
Home - Edmonton Seniors Coordinating Council (ESCC) (seniorscouncil.net) - We bring people, ideas, and information together to build collaborative approaches to services, supports and circumstances affecting older adults.
Suggest a New Listing | 211 Alberta | 211 Alberta, Help Starts Here – to add programs or services to 211.
North Zone Continuing Care Access Referral (albertahealthservices.ca)
Mental Health First Aid Supporting Older Adults (imagineinstitute.ca) – information on Mental Health First Aid for supporting older adults.
Memory Training for Dementia and Aging - BrainHealthCatalyst
Poverty Simulation - United Way Alberta Capital Region (myunitedway.ca) - A Poverty Simulation is a unique and powerful experience which challenges perceptions, changes perspectives and strengthens understanding and empathy. The simulation replicates a month in the life of a family living in poverty.
Reducing the Impact of Financial Strain (RIFS) (healthiertogether.ca) - The Reducing the Impact of Financial Strain (RIFS) project is a ground-breaking collaboration between communities and their Primary Care Networks that aims to reduce financial strain as a barrier to health, particularly in areas of cancer, chronic-disease-management, and prevention.
AHS envisAGE Beachhead - Interest (office.com) – learn more about the AHS envisAGE Beachhead.
Join the Connecting People & Community for Living Well CORE Group (must be signed into your CORE Alberta account to join): https://corealberta.ca/group/connecting-people-community-for-living-well
Not yet a member of Healthy Aging CORE Alberta? Register here: https://corealberta.ca/register
---
September 2023 Partners' Meeting
By

Connecting People & Community for Living Well

Subject Area

Mental Health and Wellness
Social Connectedness / Social Isolation
Information, Referral, & Advocacy
Organizational Development
Caregiving & Caregiver Support
General Health and Wellness
Rural and Remote Communities
Age-friendly Communities

Audience

Government (Politicians, Policy Makers) and Health Authorities
Service Providers (Non-profits, Community Organizations, Local government)
Caregivers, Seniors & Volunteers
Government
Health Authorities
Funders
Academics