RECORDING: How Can Your Organization Build Connections to Strengthen Communities?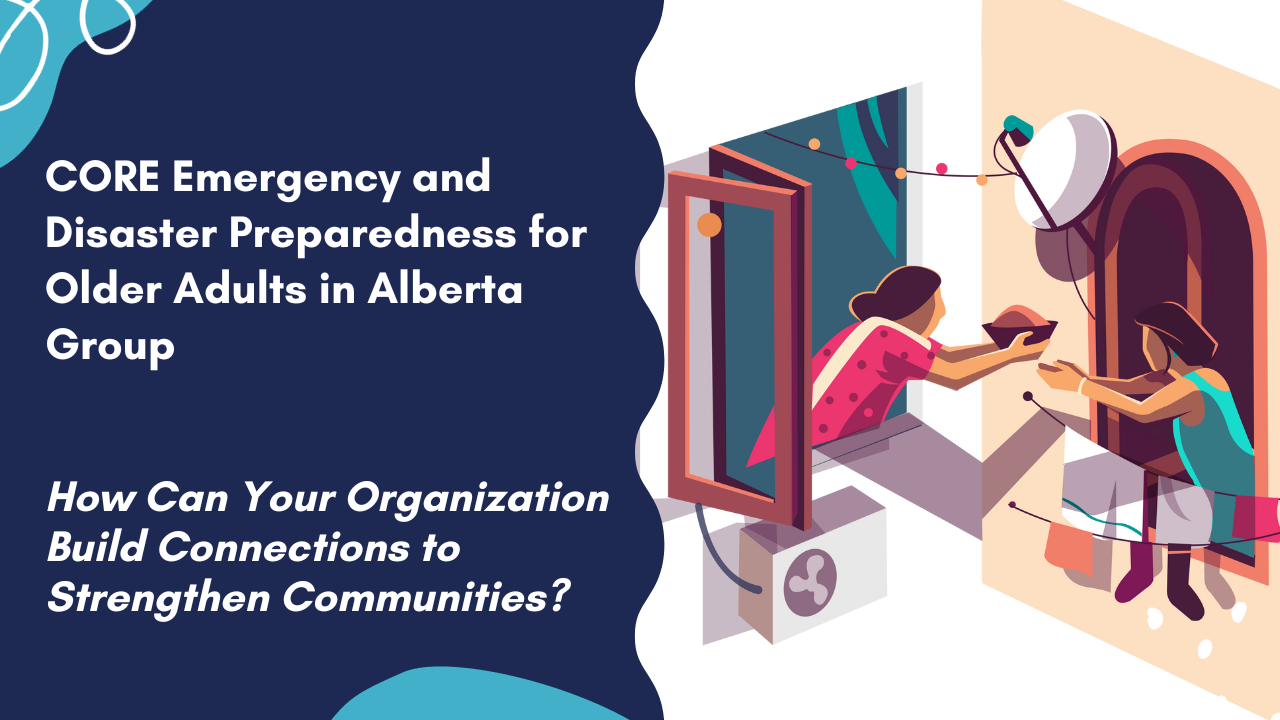 On November 9, 2023, the CORE Emergency and Disaster Preparedness for Older Adults Group hosted a session called "How can your organization build connections to strengthen communities?" with Heather Keam from the Tamarack Institute.
Description: With the rise in social isolation and loneliness in our communities, organizations need to rethink how our programs and activities show up in your communities. To address loneliness we need to shift from doing "to and for" community to creating connections that support communities to do "with and by" themselves. This also connects to the idea of preparing "zero responders" for emergencies.
About the Presenter:
Heather Keam is the Associate Director for Cities Deepening Community practice with the Tamarack Institute. Before this position she was a Manager in the Learning Centre where she organized Community of Practices, learning opportunities, tools and resources for community change. Heather brings over 13 years of public health knowledge to this position and 20 years of experience generating action at a grassroots level using ABCD and Collective Impact. Heather is a lifelong learner and has just recently got her certificate in Knowledge Mobilization from the University of Guelph. She has a Bachelor's degree in Health Studies from Brock University, a Graduate diploma in Nutritional Science from Canberra University, Australia, a Graduate Diploma in Health Promotion from Canadore College. Heather loves guiding groups through the community development process of planning, engagement, implementation, and sustainability of local community efforts. Heather has presented at several provincial, national and international conferences regarding her work on walkable communities and building healthy communities. Heather resides in Ontario with her family. When she is not baking, she is either camping or volunteering her time at her children's school, local Scouting and as a member of the local Optimist club.
Join the CORE Emergency and Disaster Preparedness Group (must be signed into your CORE Alberta account to join): https://corealberta.ca/group/emergency-and-disaster-preparedness-for-older-adults-in-alberta
Not yet a member of Healthy Aging CORE Alberta? Register here: https://corealberta.ca/register
(*this recording does not show the presenter video when the slides are shared due to a glitch in backend Zoom settings)
The slide deck from the session is also attached here. Other resources shared during the session were:
---
How Can Your Organization Build Connections to Strengthen Communities
By

CORE Emergency and Disaster Preparedness for Older Adults Group

Subject Area

Social Connectedness / Social Isolation
Rural and Remote Communities
Age-friendly Communities
Non-profit / Charitable sector
Intergenerational initiatives
Mental Health and Wellness
Leadership, Training, Coaching, Mentoring

Audience

Government (Politicians, Policy Makers) and Health Authorities
Service Providers (Non-profits, Community Organizations, Local government)
Caregivers, Seniors & Volunteers
Government
Health Authorities

Category

Rural & Remote Communities
Best Practices
Evidence-based & emerging practices
Leadership & Development
Recorded webinar
Events & Webinars
Training & Capacity Building