RECORDING: Elder Abuse Movement for Change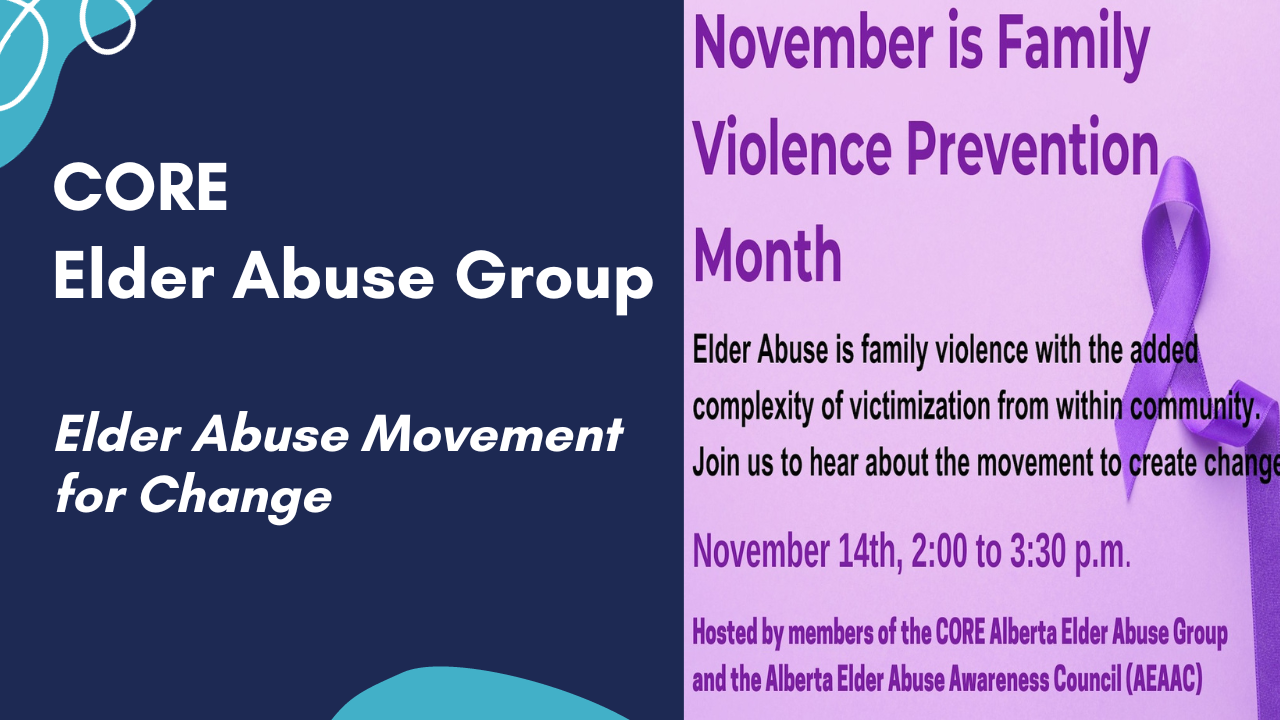 Elder Abuse is often committed by someone known to the victim, such as a family member, friend, or caregiver, but the abuse can come from anyone in a position of power, control, or trust in the older adult's life.
In recognition of Family Violence Prevention Month, the CORE Alberta Elder Abuse Group and the Alberta Elder Abuse Awareness Council (AEAAC) organized this session which shared information about the ongoing efforts by stakeholders across the province to create change in relation to elder abuse. They shared what is being done in the areas of awareness, prevention, intervention, and moving forward utilizing best practices with the vision of creating abuse-free communities for our aging population.
#ABgrowtheconversation
#noseniorleftalone
Join the CORE Elder Abuse Group (must be signed into your CORE Alberta account to join): https://corealberta.ca/group/elder-abuse
Not yet a member of Healthy Aging CORE Alberta? Register here: https://corealberta.ca/register
Recording from November 14, 2023
---
CORE Elder Abuse: Movement for Change
By

CORE Elder Abuse Group & Alberta Elder Abuse Awareness Council (AEAAC)

Subject Area

Safety, Security, Finances, & Personal Planning
Referral and Systems Navigation
Mental Health and Wellness
General Health and Wellness
Information, Referral, & Advocacy
Social Connectedness / Social Isolation
Caregiving & Caregiver Support
Ageism

Audience

Service Providers (Non-profits, Community Organizations, Local government)
Caregivers, Seniors & Volunteers
Government (Politicians, Policy Makers) and Health Authorities
Government
Health Authorities

Category

Best Practices
Advocacy
CBSS Supports & Services
Provincial Resources
Policy, Planning, & Procedures
Research & Evidence
Events & Webinars
Recorded webinar
Partnerships