The Ongoing COVID-19 Experience of Canadian Charities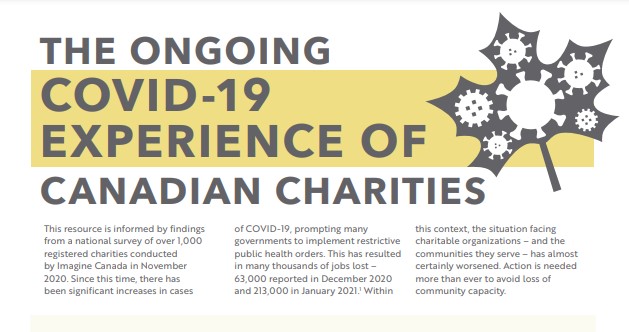 This resource is informed by findings from a national survey of over 1,000 registered charities conducted by Imagine Canada in November 2020.
Since this time, there has been significant increases in cases of COVID-19, prompting many governments to implement restrictive public health orders. This has resulted in many thousands of jobs lost – 63,000 reported in December 2020 and 213,000 in January 2021.1
Within this context, the situation facing charitable organizations – and the communities they serve – has almost certainly worsened. Action is needed more than ever to avoid loss of community capacity.
READ MORE HERE
By

Subject Area

Information, Referral, & Advocacy
Organizational Development

Audience

Service Providers (Non-profits, Community Organizations, Local government)