Non-medical Supports Improve the Well-being of Older Adults: Final Reports and Panel Discussion Recording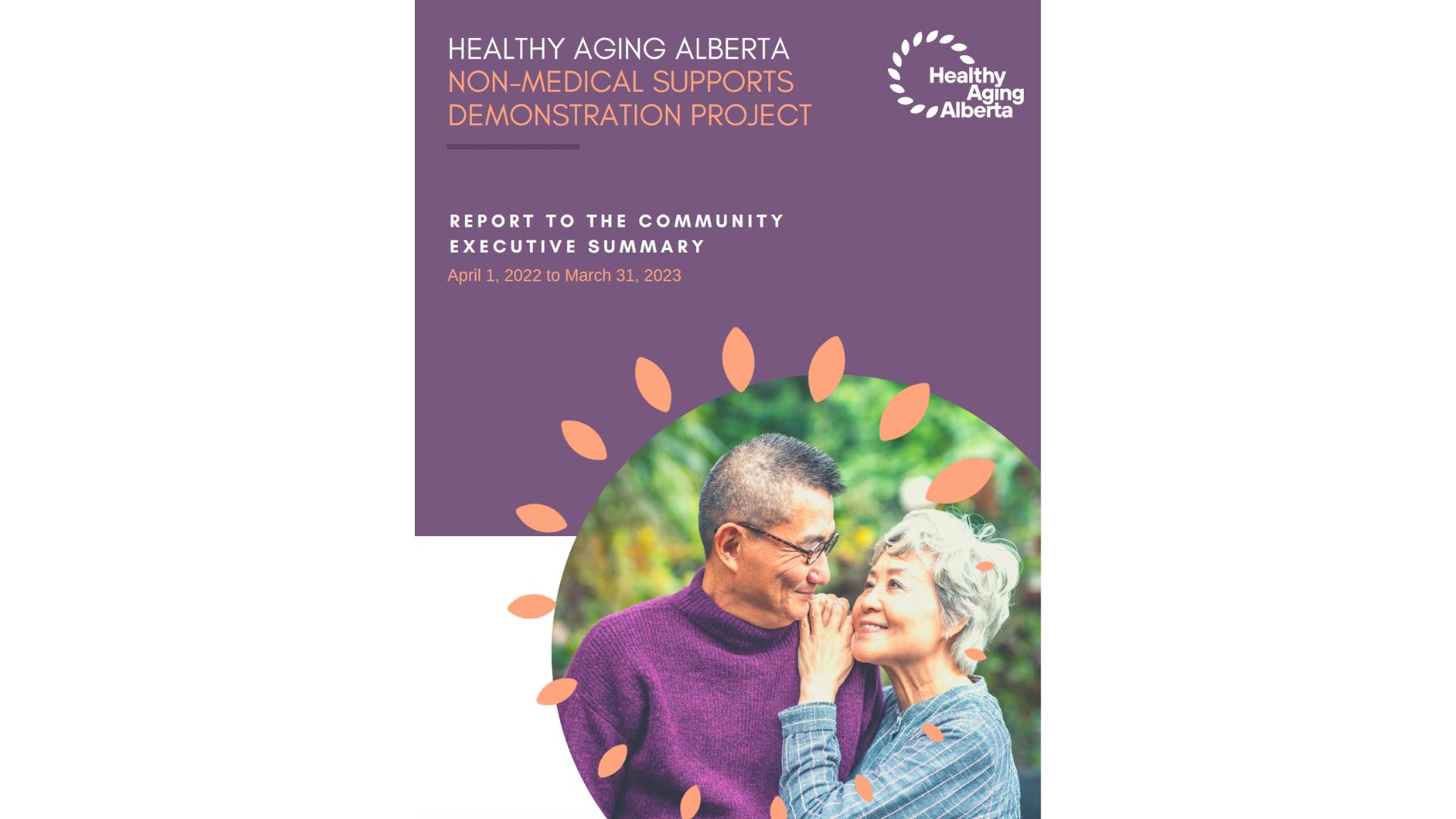 Non-medical Supports Improve the Well-being of Older Adults
To support Alberta's healthcare system and challenges faced during the Covid-19 pandemic, Healthy Aging Alberta stewarded an investment in three one-year projects to provide non-medical community and home supports for older adults.
These projects were in geographic areas with:
A high demand for health-promoting non-medical services
Readiness by community-based senior serving organizations to maintain and/or increase services
A high number of older adults
Hospitals that experienced capacity challenges
The investment's regional and collective impact was assessed through a standardized data collection process established through a Community of Practice that supported overall project implementation.
On September 12, 2023 Healthy Aging Alberta was pleased to host a panel discussion sharing the exciting results, successes and learnings of this collaborative work. You can view the recording of this discussion HERE.
If you would like to contact our panelists for more information about their project, they would be happy to answer your questions:
We are also happy to share an Executive Summary and detailed Final Report.
Learnings from this project influenced current work in communities involved in facilitating the building of provincial models for community and home supports, and social prescribing.
Interested in learning more about social prescribing? Join our upcoming event on November 2, 2023 at 10:00am MST by registering HERE.
---
Non-Medical Supports Improve the Well-Being of Older Adults
Subject Area

Age-friendly Communities
COVID-19
Home Support
General Health and Wellness
Mental Health and Wellness
Referral and Systems Navigation
Safety, Security, Finances, & Personal Planning
Social Connectedness / Social Isolation
Food Security and Nutritional Supports
Food & Nutritional Support
Housing

Audience

Academics
Funders
Government (Politicians, Policy Makers) and Health Authorities
Service Providers (Non-profits, Community Organizations, Local government)
Government
Health Authorities
Caregivers, Seniors & Volunteers

Category

Research & Evidence
Research & Reports
Evidence-based & emerging practices
Success Stories
Provincial Resources
Referrals
Policy, Planning, & Procedures
CBSS Supports & Services
Recorded webinar
Light Housekeeping
Transportation