New Communities of Living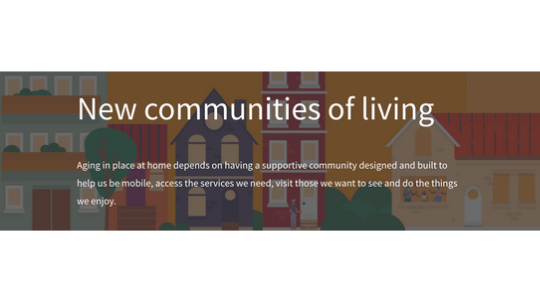 Aging in place at home depends on having a supportive community designed and built to help us be mobile, access the services we need, visit those we want to see and do the things we enjoy.
Aging in place models:
While Canadians realize that they may need higher levels of care as they age, they would like to stay in a place they experience as home. There are many types of aging in place models to challenge Canada's current dependence on institutional approaches. The National Institute of Ageing provides a framework to help understand the various types of housing and home living models to support older adults as they transition from healthy with greater independence to situations where they need more care.
READ MORE HERE
By

Subject Area

Housing
Home Support
Mental Health and Wellness
Social Connectedness / Social Isolation
Information, Referral, & Advocacy
Caregiving & Caregiver Support

Audience

Service Providers (Non-profits, Community Organizations, Local government)
Government
Health Authorities
Funders
Caregivers, Seniors & Volunteers
Academics