HSO Releases Results of Nationwide Survey on New Long-Term Care Standards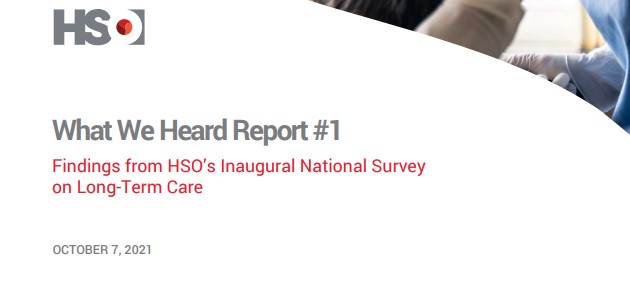 In Canada, we are on the precipice of long-overdue reform, improvement and progress in our systems of long-term care. Over the past few months, 16,093 Canadians participated in shaping the future of long-term care—sharing their perspectives, experiences, needs and hopes for Canada's new National Long-Term Care Services Standard, that is currently in development.
Yesterday, Health Standards Organization (HSO) released the findings of its inaugural national survey, which reflect the priorities and needs of long-term care residents, workers and their loved ones from coast-to-coast-to-coast.
The report, which was prepared by NIA Research Fellow Dr. Ashley Flanagan, will support the work of the National Long-Term Care Services Standard Technical Committee—the body charged with developing the new standards. Chaired by NIA Director of Health Policy Research Dr. Samir Sinha, the technical committee's work will help support the health and well-being older adults today and for future generations to come.
READ MORE HERE
By

Subject Area

Information, Referral, & Advocacy
Organizational Development
Caregiving & Caregiver Support

Audience

Service Providers (Non-profits, Community Organizations, Local government)
Government
Health Authorities
Academics