Driving Canada's Leadership in AGETECH: AGE-WELL 2020-2021 Annual Report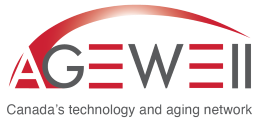 Driving Canada's Leadership in AGETECH: 2020-2021 Annual Report shows how AGE-WELL is accelerating the delivery of technology-based solutions that benefit older adults and caregivers ‒ and generate economic returns for Canadians.
The COVID-19 pandemic has underlined the essential role that technology can play in supporting older adults to stay connected, healthy and in their own homes for as long as possible. It has also highlighted gaps in care and services for older adults, where technology can make a significant difference. 
For the last six years, AGE-WELL has served as a catalyst for technological innovation that empowers older adults to live healthy, independent and engaged lives, while driving forward Canada's growing AgeTech sector.
READ MORE HERE
Website Link
---
By

Subject Area

Housing
Home Support
Mental Health and Wellness
Social Connectedness / Social Isolation
International Innovation
Caregiving & Caregiver Support

Audience

Service Providers (Non-profits, Community Organizations, Local government)
Government
Health Authorities
Funders
Caregivers, Seniors & Volunteers
Academics