Guidebook: Continuing Care in Indigenous Communities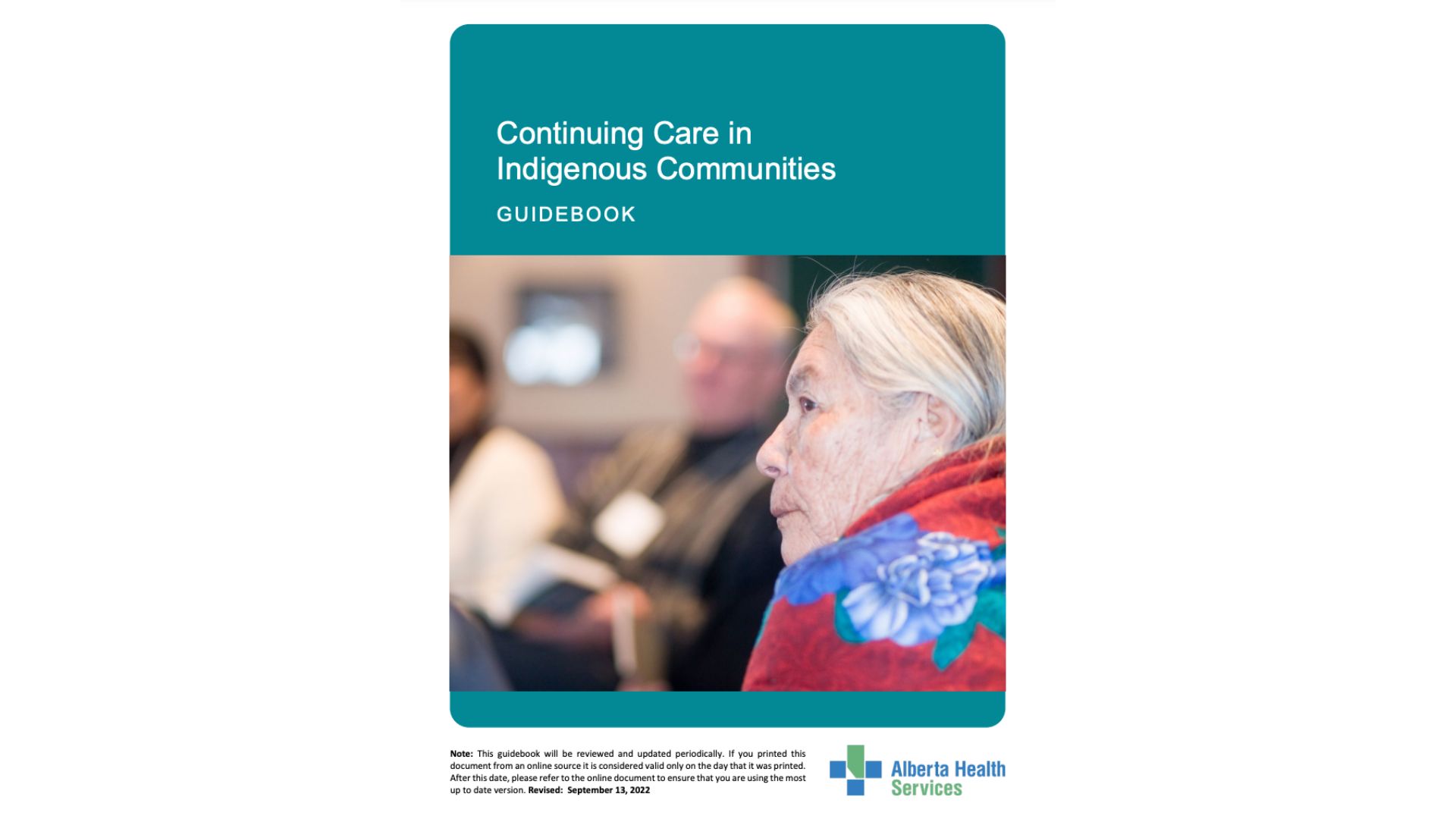 In a spirit of partnership and mutual respect, Alberta Health Services (AHS) is committed to Métis and First Nations communities in supporting the development of continuing care services that meet their unique needs. This work was undertaken with recognition of the guiding principles and values of the United Nations Declaration on the Rights of Indigenous Peoples, the Truth and Reconciliation Commission of Canada: Calls to Action, and specifically:
recognizing the health-care rights of Indigenous peoples
recognizing the value of Indigenous healing practices, and
identifying and closing the gaps in health outcomes between Indigenous and non-Indigenous communities.
The development of continuing care services supports Indigenous people to remain in their community, close to the support of family and friends, as they age or as their care needs change. The development of culturally sensitive continuing care helps to ensure that health services are provided in a way that works best for First Nations and Métis people.
This guide was created by Alberta Health Services, in partnership and consultation with First Nations and Métis representatives and the Government of Alberta (Ministries of Health, Indigenous Relations, Seniors and Housing). Special thanks to the members of the following groups for sharing their wisdom and expertise (refer to Appendix I for a full list of contributors):
Métis Settlements General Council Health Board
Joint Action Health Plan Continuing Care Sub-Working Group
Continuing Care in Indigenous Communities Working Group
By

Alberta Health Services

Subject Area

Caregiving & Caregiver Support
Indigenous Peoples and Indigenous Relations
Information, Referral, & Advocacy
Age-friendly Communities
Social Connectedness / Social Isolation
Rural and Remote Communities

Audience

Government (Politicians, Policy Makers) and Health Authorities
Service Providers (Non-profits, Community Organizations, Local government)
Caregivers, Seniors & Volunteers
Government
Health Authorities

Category

Best Practices
First Nations/Aboriginal Communities
Training & Capacity Building
Research & Evidence
Research & Reports
Partnerships
Provincial Resources