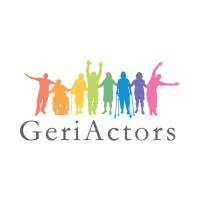 AudioGeris is a collection of audio plays by GeriActors & Friends.
While Covid-19 presented many challenges, it also inspired new ways of sharing stories and connecting with audiences.
In March 2020, our performance company, GeriActors & Friends, moved to virtual rehearsals, and in 2021 we produced our first audio play, Way Back. Through this audio-only experience, our stories were brought to life in a new way and engaged listeners from across Canada, the US, the UK, Trinidad, and even Australia.
GeriActors Theatre is an intergenerational theatre company based in Amiskwacîwâskahikan (Edmonton).
Subject Area

Intergenerational initiatives
Education, Recreation, & Arts
Ageism
Social Connectedness / Social Isolation

Audience

Academics
Funders
Service Providers (Non-profits, Community Organizations, Local government)
Government (Politicians, Policy Makers) and Health Authorities
Caregivers, Seniors & Volunteers