Article: Safe and Brave Spaces Don't Work (and What You Can Do Instead)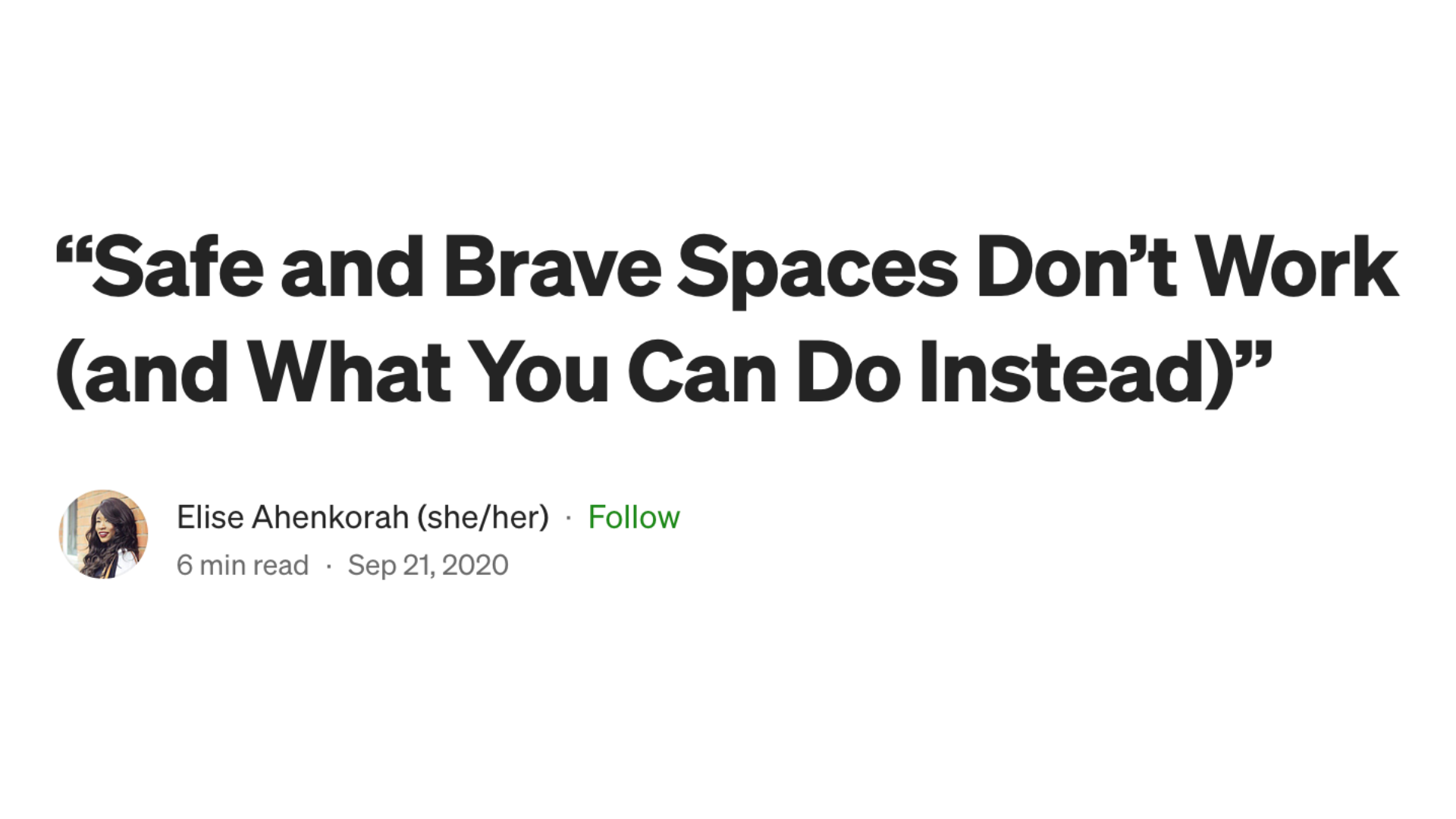 Published September 21, 2020:
When engaging individuals from racialized or equity-deserving communities, organizations will often share promises of "safe and brave" spaces to encourage inclusive discussion, and for allies to learn from experiences different from their own.
We can probably stop making those promises now.
It was a nice idea.
Idealistic. Maybe a bit naive.
Like the tooth fairy. Or when you let your parents "hold" the money your visiting uncle gave to you as a child, so you didn't lose it. (I'm still bitter about it.)
The truth is, safe spaces don't exist for equity-deserving communities — or for those learning about identity and privilege.
And brave spaces? They negate the daily bravery marginalized communities need to display everywhere, to navigate everyday and common biases, discrimination, and microaggressions, in workplaces and society.
To move forward, we don't need to promise safety or expect bravery. We need to embrace accountability.
By

Elise Ahenkorah, Medium

Subject Area

Social Connectedness / Social Isolation
Indigenous Peoples and Indigenous Relations
Intercultural/Interfaith/Interlingual; Immigrants, Refugees, and Other Newcomers
Ageism
LGBTQIA2S+
Non-profit / Charitable sector
Organizational Development

Audience

Service Providers (Non-profits, Community Organizations, Local government)
Funders
Government (Politicians, Policy Makers) and Health Authorities
Academics
Caregivers, Seniors & Volunteers
Health Authorities
Government

Category

Best Practices
Evidence-based & emerging practices
Organizational development