Paper: An Introduction to the Health of Two-Spirit People: Historical, Contemporary and Emergent Issues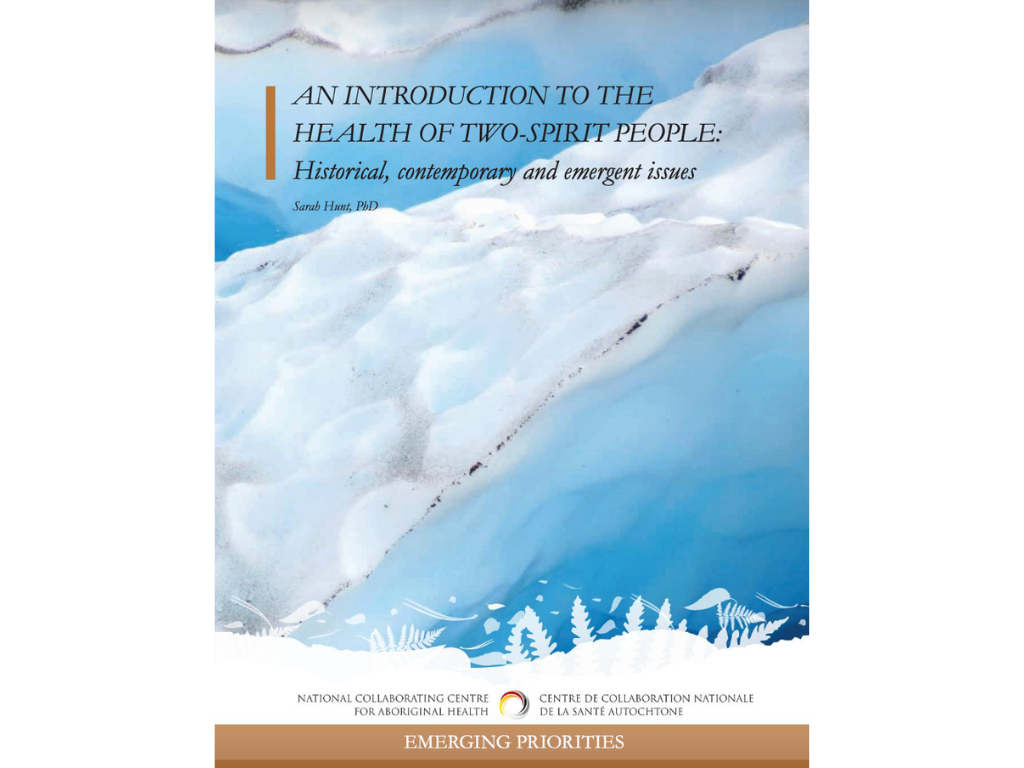 Two-Spirit is a term that encompasses a broad range of sexual and gender identities of Aboriginal peoples, including those who identify as lesbian, gay, bisexual, transgender, or queer (LGBTQ). This paper, authored by Dr. Sarah Hunt, introduces the historical, contemporary and emergent issues related to Two-Spirit health. Integral to this discussion is that Two-Spirit health is understood within the context of colonialism and heteropatriarchy, as well as in the current resurgence of Two-Spirit peoples' gender roles and sexual identities.
The paper includes six sections:
1. Introduction to the diversity of Two-Spirit roles and identities within Aboriginal cultures
2. Discussion of the impacts of colonization on Aboriginal peoples' gender roles and sexuality, including the decline of previously revered spaces occupied by Two-Spirit peoples (i.e. knowledge keepers, healers, herbalists, child minders, spiritual leaders, interpreters, mediators and artists)
3. Overview of the social determinants of Aboriginal peoples' health, with a particular view to understanding the experiences of Aboriginal lesbian, gay, bisexual, trans, queer and Two-Spirit (LGBTQ2S) people (i.e. homophobia and heteronormativity, systemic invisibility, and urbanity and mobility)
4. Presentation of available research on the health and well-being of Two-Spirit people (i.e. mental health, substance abuse, violence, and HIV/AIDS)
5. Review of the health of Two-Spirit youth using a strengths-based approach
6. Discussion of the resiliency, resurgence, and acknowledgement of Two-Spirit roles and identities as vital to improving their health and well-being
Two-spirit people are an underserved population. Improving their health and well-being requires that their voices, needs and identities are central to any Two-Spirit health initiatives, and that their experiences are included in Aboriginal health research, policy, and programming.
Intended as an introductory paper for health practitioners, Indigenous community members and researchers working in areas of Indigenous health, gender and sexuality, Hunt concludes with a listing of additional sources of information on Two-Spirit people and health, including educational resources, books and journals.
By

National Collaborating Centre for Indigenous Health (NCCIH)

Subject Area

Mental Health and Wellness
General Health and Wellness
LGBTQIA2S+
Indigenous Peoples and Indigenous Relations
Organizational Development

Audience

Academics
Government (Politicians, Policy Makers) and Health Authorities
Service Providers (Non-profits, Community Organizations, Local government)
Caregivers, Seniors & Volunteers
Government
Health Authorities

Category

Best Practices
Evidence-based & emerging practices
First Nations/Aboriginal Communities
Research & Reports
Research & Evidence
Toolkits
Training & Capacity Building
Organizational development