Alberta Ends Provincial State of Emergency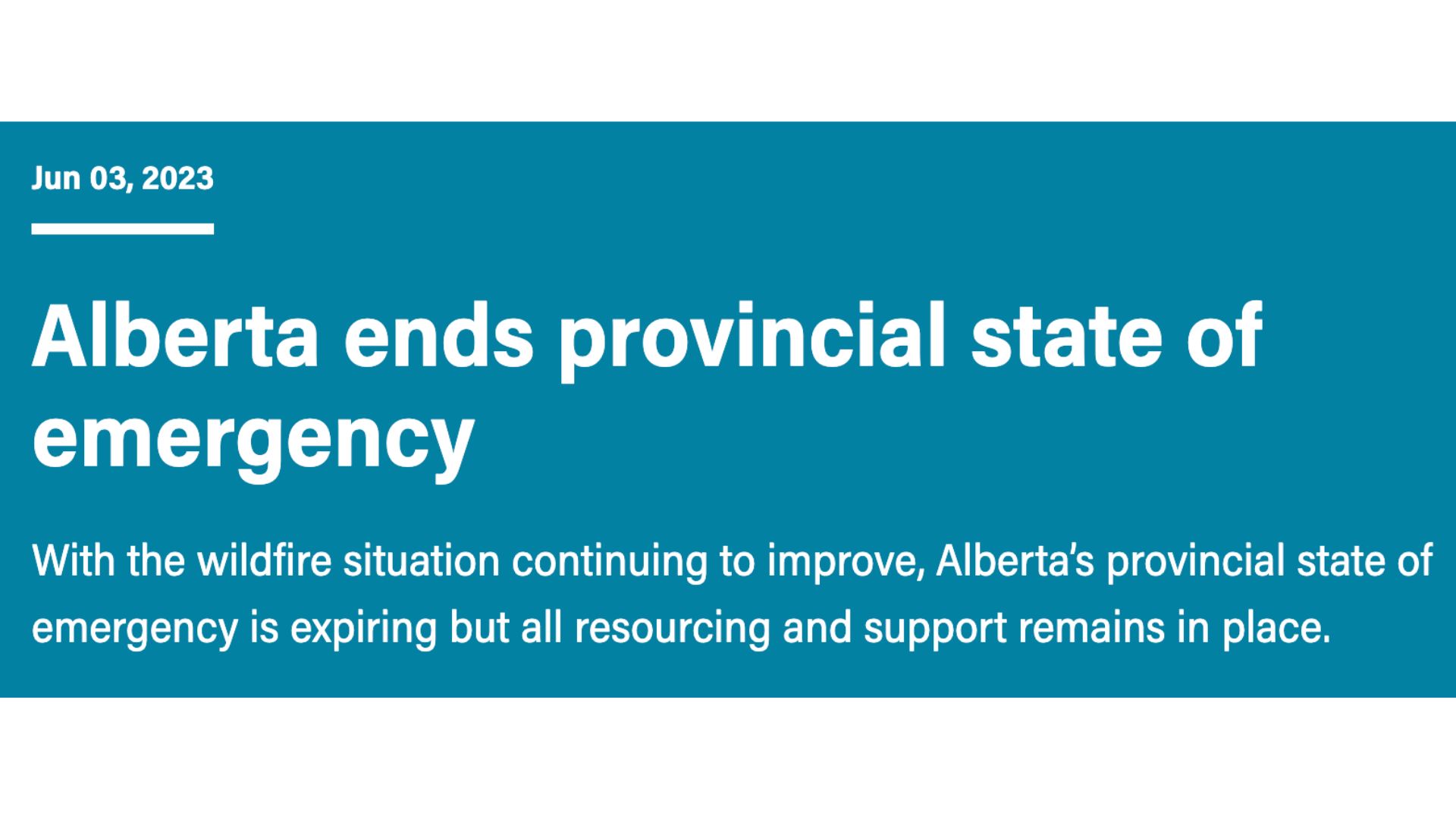 Although the wildfire situation remains serious in the northern areas of the province, the extraordinary powers of the Emergency Management Act are no longer required to ensure emergency responders and wildfire firefighters continue keeping Albertans and their properties safe. These efforts will especially continue in the Fort Chipewyan area and other communities where residents remain evacuated.
"Wildfires are still burning in many parts of northern Alberta, and hundreds of people are still away from their homes. Although the provincial state of emergency is expiring, we will continue to use all of our resources to fight these fires and protect communities. No community will be left behind, and all the resources of the provincial government will continue to be available to those who need it."
Mike Ellis, Minister of Public Safety and Emergency Services
Alberta is working closely with local authorities and other agencies to ensure the province has the firefighting resources needed for the rest of the wildfire season.
Albertans who have been evacuated or are returning home should continue to follow updates from their local authorities. Information is also available at Alberta.ca/emergency or by calling 310-4455 any time of the day or night. Evacuees should still register at a local reception centre or at emergencyregistration.alberta.ca. Situation reports will continue to be distributed daily to the public and media.
To help prevent more wildfires from starting, Albertans should check Albertafirebans.ca and abide by any bans or restrictions in their area.
June 3 is also the final day that the Government of Alberta and Government of Canada will match donations to the Red Cross 2023 Alberta Fires Appeal. Every $1 donated to the Red Cross appeal will become $3 to support those affected by the wildfires.
Quick facts
A provincial state of emergency in Alberta automatically expires after 28 days. The May 2023 wildfires state of emergency expires on June 3, 2023 at 11:59 p.m.
Under the Emergency Management Act, declaring a provincial state of emergency is a legal mechanism providing access to emergency discretionary funds and triggering intergovernmental protocols for collaboration.
The Alberta Emergency Management Agency leads the coordination and cooperation of all organizations involved in emergencies and disasters in the province and oversees all emergency and disaster prevention, preparedness and responses.


Related information


Multimedia