2023 Healthy Aging Alberta Regional Gatherings: Call for Presentations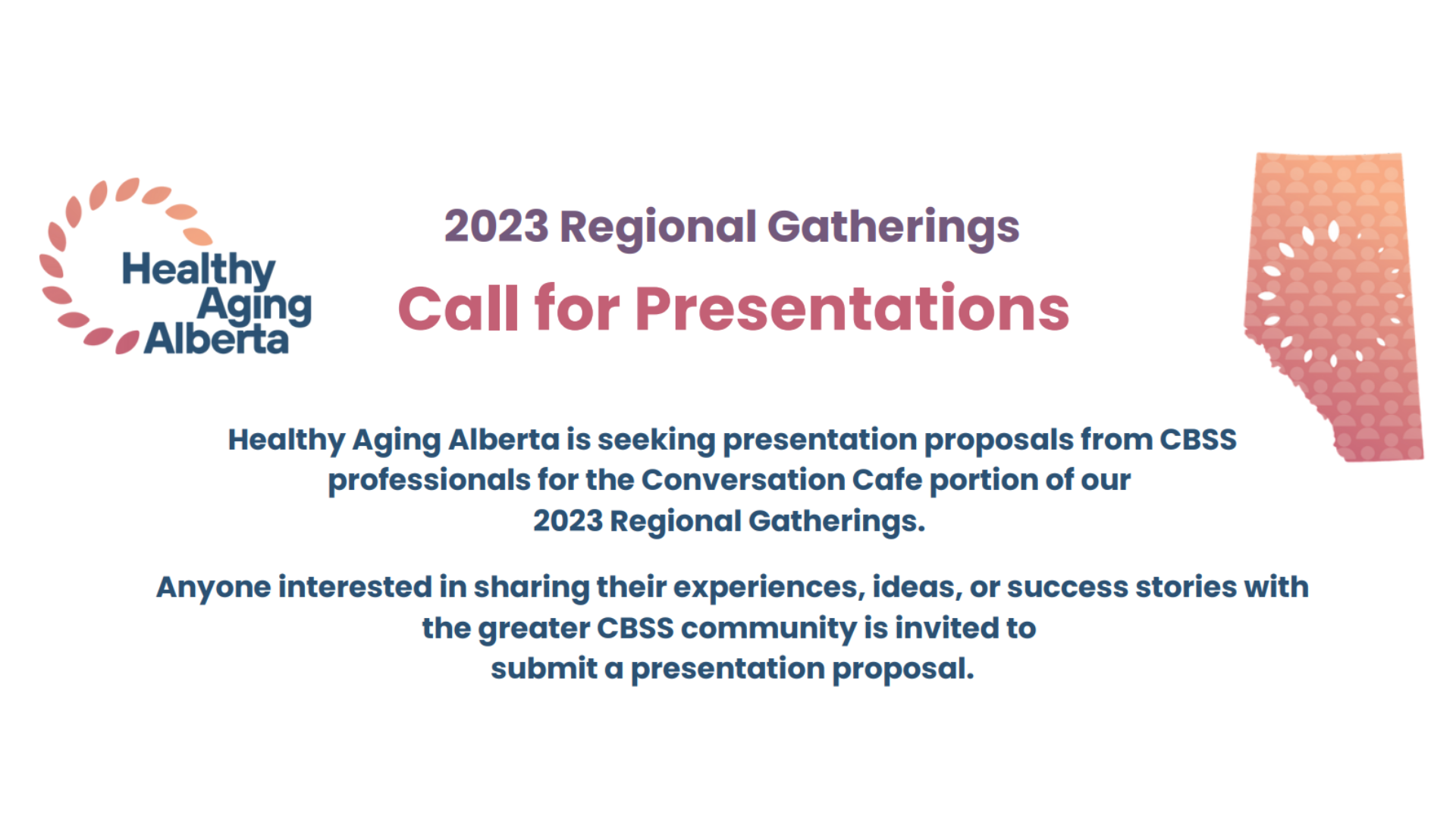 Healthy Aging Alberta is seeking presentation proposals from CBSS professionals for the Conversation Cafe portion of our 2023 Regional Gatherings.


Anyone interested in sharing their experiences, ideas, or success stories with the greater CBSS community is invited to submit a presentation proposal.
Presentation Format: 
The conversation cafe is an informal style of presenting information at small tables to encourage participation. Each presentation will be 20 minutes in length followed by a 20 minute guided conversation. Participants at your table will then move to another table to join the next conversation on a different topic. There will be a total of 3 different presentations/topics, and you will be asked to share 3 times so that all participants have the opportunity to engage with what you have to share. 
Some examples of presentation topics include:
Elder Abuse
Dementia
Social Prescribing
Mental Health
Transportation
Community and Home Supports
Ageism
Intergenerational Programming
Equity Deserving Groups
Any other topic is welcomed!
Selection Criteria:
Willingness to celebrate and engage in a conversation about your work.
Relevance to the regional CBSS sector as determined by the event working committee.
Ability to commit to present in-person at the Gathering in your region.
Travel expenses will be covered for presenters including:
Mileage at $0.61 per kilometre, overnight accommodation for those residing more than 200 km away (one way), and printing costs.
Regional Community Developers will reach out to speakers a couple of weeks prior to the gathering to review your presentation and discuss details.
Deadline to apply is 3 weeks prior to each Regional Gathering.
For Gathering dates please click here. 
Please connect with us at info@healthyagingalberta.ca if you have any questions.