Future Focus Grants for Arts Organizations (November 24, 2023)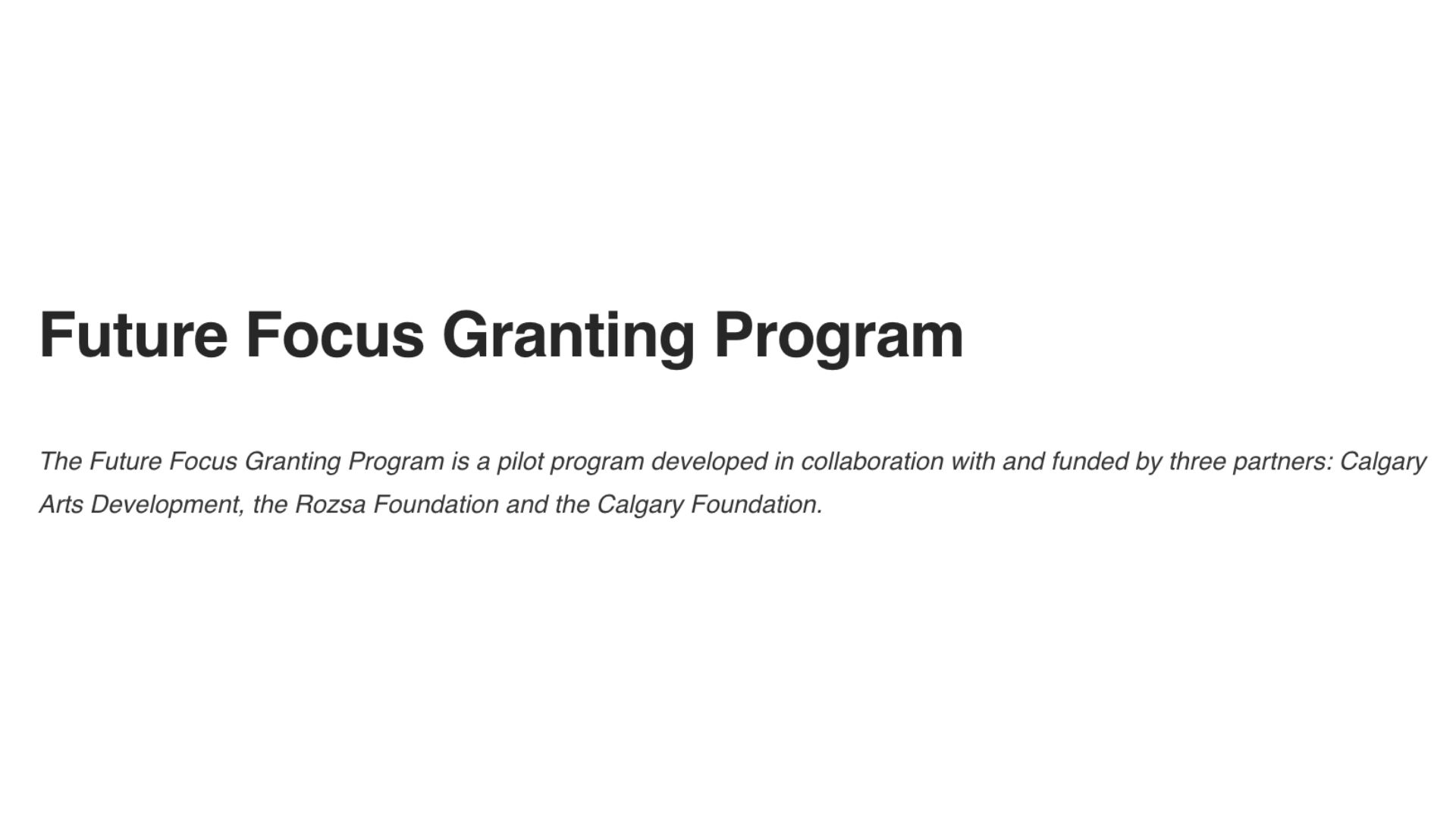 In support of this work, the Future Focus Program is a joint initiative of Calgary Arts Development, the Rozsa Foundation and the Calgary Foundation aimed at supporting arts organizations to investigate, plan and implement significant strategic adaptations in their operations.
The funding partners recognize the resources and expenses required to responsibly consider such adaptations and, through this program, organizations can access funds to develop strategies and engage expertise to build their capacity and assist them in their journeys to navigate the questions, challenges and opportunities they face. The work of future planning and transformation cannot be undertaken without considering how Reconciliation, equity, diversity, inclusion and accessibility (EDIA) is embedded into all areas of organization's operations, and organizations will be asked how they are considering Reconciliation and EDIA as they plan their projects.
This work may incorporate issues relating to:  
organizational strategy development and planning to explore new directions 
business model evaluation and shifts and structural changes 
sustained inter-organizational collaborations and resource sharing 
succession planning to transition from founding & longstanding leaders 
organizational life cycle questions including the explorations of mergers and closures 
Please note, this program is not intended to support the development and delivery of specific programs. The goal is to assist organizations in making strategic changes or decisions about their model, operations or focus that may inform how existing and future programs are developed and delivered.
This program builds upon Calgary Arts Development's Organization Structural Change Program, as well as the capacity-building grants offered by the Rozsa Foundation and Calgary Foundation. This joint initiative will be evaluated on an ongoing basis with the participation and support of applicants and grantees.  
Applications will be reviewed shortly after each intake deadline. Apply by July 28, 2023, September 29, 2023, and November 24, 2023. 
There is $300,000 available and applications will be accepted until the funds are expended.
Funder

Calgary Arts Development, Rozsa Foundation, Calgary Foundation